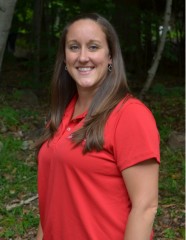 Lindsay Ferlito
Dairy Management
CCE Lewis
7395 East Road
Lowville, NY 13367
cell 607-592-0290
email Lindsay
Lindsay was born and raised in Vancouver, British Columbia, Canada, and received her BS in Animal Biology at the University of British Columbia (UBC). After graduation she worked as an intern at Agriculture and Agri-Food Canada and then as a research assistant at the UBC Dairy Education and Research Centre in Agassiz, BC. Her main roles were to assist with research on dairy cows and calves and help manage visiting students. In 2011, Lindsay completed her MS in Animal Science from the University of British Columbia Animal Welfare Program. Her thesis focused on dairy cattle welfare and feeding behavior. While completing her MSc she continued to gain experience working on-farm as well as conducting her own research. For almost 5 years, she worked for the Novus C.O.W.S.? Program conducting on-farm cow comfort assessments, seminars on cow comfort, and providing producers with herd-specific feedback relative to regional benchmarks. By visiting hundreds of dairies across the country, she gained a unique perspective and understanding of cow comfort and the dairy industry both in New York and across the United States. Lindsay joined the Cornell North Country Regional Ag Team as a Regional Dairy Specialist in 2016. Her passions and areas of focus include cow comfort, lameness, cow behavior, barn design, and promoting the dairy industry. She is based out of the Lewis County office, and she can be reached at lc636@cornell.edu or 607-592-0290.
Upcoming Events
No upcoming events at this time.
Announcements
NNYADP Biocontrol Research: Protocols Now Easier for Farmers and Applicators
Press Release: May 2, 2023
Link:
https://nnyagdev.org/index.php/2023/05/02/nnyadp-biocontrol-research-protocols-now-easier-for-farmers-applicator/
Photo, contacts: see below
NNYADP Biocontrol Research: Protocols Now Easier for Farmers and Applicators
Plattsburgh, New York. The Northern New York Agricultural Development Program (NNYADP) has announced the development of new protocols that make the use of New York-native persistent biocontrol nematodes for crop pest management easier for farms and custom applicators. The research developed a protocol for the mass-rearing and delivery of the persistent biocontrol nematodes and extended their shelf-life in a holding solution prior to field application.
"This research has expanded the use of persistent biocontrol nematodes as a nature-based method that helps reduce populations of alfalfa snout beetle, corn rootworm, and berry weevils that have the potential for costly economic damage, and reached significant milestones in making the application of persistent biocontrol nematodes more convenient for farmers and applicators," said NNYADP Co-Chair and dairy farmer Joseph Giroux, Plattsburgh, New York.
The new protocols developed by entomologist Elson Shields and research support specialist Tony Testa include a new liquid-based formulation that requires less water and less sawdust and achieves optimal ventilation and oxygenation with heat and humidity control for the mass-rearing of the persistent biocontrol nematodes.
The rearing technique developed earlier by Shields and Testa allows the northern New York-native persistent biocontrol nematode strains to retain their genetic ability to persist in soil for multiple years.
The researchers successfully used the new formulation to rear persistent biocontrol nematodes for application to 3,350 acres in field trials on farms in Jefferson and St. Lawrence counties in the spring and fall of 2022.
Seven farms participated in the on-farm application trials. Two commercial applicators evaluated the new field delivery and application methods.
"As a result of this Northern New York Agricultural Development Program research over time, I started my own persistent biocontrol nematode rearing lab in 2016. As a result of the field trials in 2022, I have adopted the new rearing and delivery protocols, which are more convenient, less costly, and less labor-intensive," said Mary DeBeer of DeBeer Agri-Service, Moira, New York.
Ron DeBeer of DeBeer Seed and Spraying assisted the field applications for the NNYADP project in 2022.
"As part of the persistent biocontrol nematodes field research in 2022, we applied to some fields that had had period infestation by alfalfa snout beetle and are now in a corn rotation. The much-improved delivery method and extended holding capacity allowed us much more flexibility in applying around the local weather constraints," said Dean Wheeler of D&D Spray Service, Mannsville, New York.
Over time, northern New York farm fields treated with the persistent biocontrol nematodes for management of alfalfa snout beetle began to show their impact on corn rootworm populations.
Subsequent research supported by the NNYADP, other funders, and farmers themselves has extended the use or trials of the persistent biocontrol nematodes to multiple crops in states nationwide.
The "Developing a Farmer/Applicator-Friendly Persistent Biocontrol Nematodes Formulation for Field Application" is posted at
www.nnyagdev.org
.
Funding for the Northern New York Agricultural Development Program is supported by the New York State Legislature through the New York State Assembly and administered by the New York State Department of Agriculture and Markets.
Photo attached or available: Dean Wheeler, right, and A.J. Goblewski of D&D Spray Service, Mannsville, NY, assisted NNYADP-funded research in 2022, evaluating the ease of new protocols for the delivery and application of persistent biocontrol nematodes. Photo: NNYADP
MEDIA CONTACTS:
. NNYADP Co-Chairs Jon Greenwood: 315-386-3231; Joe Giroux, 518-563-7523;

Jon Rulfs, 518-572-1960
. NNYADP Coordinator Michele Ledoux: 315-376-5270, mel14@cornell.edu
. NNYADP Publicist Kara Lynn Dunn: 315-465-7578, karalynn@gisco.net