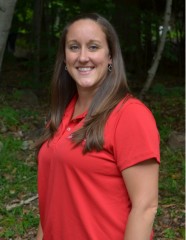 Lindsay Ferlito
Dairy Management
CCE Lewis
7395 East Road
Lowville, NY 13367
cell 607-592-0290
email Lindsay
Lindsay was born and raised in Vancouver, British Columbia, Canada, and received her BS in Animal Biology at the University of British Columbia (UBC). After graduation she worked as an intern at Agriculture and Agri-Food Canada and then as a research assistant at the UBC Dairy Education and Research Centre in Agassiz, BC. Her main roles were to assist with research on dairy cows and calves and help manage visiting students. In 2011, Lindsay completed her MS in Animal Science from the University of British Columbia Animal Welfare Program. Her thesis focused on dairy cattle welfare and feeding behavior. While completing her MSc she continued to gain experience working on-farm as well as conducting her own research. For almost 5 years, she worked for the Novus C.O.W.S.? Program conducting on-farm cow comfort assessments, seminars on cow comfort, and providing producers with herd-specific feedback relative to regional benchmarks. By visiting hundreds of dairies across the country, she gained a unique perspective and understanding of cow comfort and the dairy industry both in New York and across the United States. Lindsay joined the Cornell North Country Regional Ag Team as a Regional Dairy Specialist in 2016. Her passions and areas of focus include cow comfort, lameness, cow behavior, barn design, and promoting the dairy industry. She is based out of the Lewis County office, and she can be reached at lc636@cornell.edu or 607-592-0290.
Upcoming Events
26th Annual North Country Crop Congress
February 4, 2022
February 11, 2022

The 26th Annual North Country Crop Congress will be February 4 and the 11th,2022 and begin promptly at 10:00 a.m. and end at 12:15 p.m Agricultural experts will discuss the latest crop production technologies and agronomic research that will affect many farms in the region. This event will be hosted online as a live event via ZOOM.
Back to the Basics: Poultry 101
February 24, 2022
Join us and learn about the basics of poultry! Topics include:
Everything needed to start your own backyard flock
Marketing poultry products in New York
Click link below to Register...
Cornell Cooperative Extension - Event Registration for Programs

Announcements
Field Crop Weed Identification and Control Series 2022 | CALS
Cornell Cooperative Extension, Cornell AgriTech and the School of Integrative Plant Science have organized a series of 6 webinars on weed identification and control to be offered on Wednesdays in 2022. They will occur from February 2nd to March 16th (except February 9th) from 12-1pm via Zoom.
STATE AGRICULTURE COMMISSIONER ENCOURAGES THE AGRICULTURAL INDUSTRY TO APPLY FOR
Grants of Up to $50,000 are Available for Eligible Small Businesses With Revenues of Up to $2.5 Million and Experiencing Financial Hardship Due to COVID-19 Department Hosting Webinar for Interested Businesses December 13, Join the Webinar
Here.
The Coronavirus (COVID-19) is spreading rapidly across the world.
Although cities have the most sick people, the disease has reached rural communities of New York as well. Everyone needs to take this very seriously. Agriculture is an essential business, so many of us will continue to go to work. However, we all need to take precautions to stay safe and help prevent further spread of the disease. The key things to do are limit contact with other people and keep everything very clean. We've prepared a new resource to help Spanish- and English-speaking farm employees access credible, multi-lingual information that they can use right away. Here are this links to a printable resource for farms to use:
English COVID 19 Procedures
Spanish COVID 19 Procedures
To see a full list of other relevant resources,
click here
.
How to Manage COVID-19 Risk on Dairy Farms
Straightforward helpful steps to manage risk on dairy farms! We are happy to help talk farms through these steps and develop risk management plans for protecting owners and team members. Reach out to Kelsey O'Shea via email kio3@cornell.edu for more information.
Update - Regional Ag Team Operations during COVID-19
Click here to get the updated information on our operations.