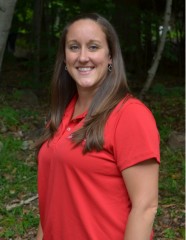 Lindsay Ferlito
Dairy Management
CCE Lewis
7395 East Road
Lowville, NY 13367
cell 607-592-0290
email Lindsay
Lindsay was born and raised in Vancouver, British Columbia, Canada, and received her BS in Animal Biology at the University of British Columbia (UBC). After graduation she worked as an intern at Agriculture and Agri-Food Canada and then as a research assistant at the UBC Dairy Education and Research Centre in Agassiz, BC. Her main roles were to assist with research on dairy cows and calves and help manage visiting students. In 2011, Lindsay completed her MS in Animal Science from the University of British Columbia Animal Welfare Program. Her thesis focused on dairy cattle welfare and feeding behavior. While completing her MSc she continued to gain experience working on-farm as well as conducting her own research. For almost 5 years, she worked for the Novus C.O.W.S.? Program conducting on-farm cow comfort assessments, seminars on cow comfort, and providing producers with herd-specific feedback relative to regional benchmarks. By visiting hundreds of dairies across the country, she gained a unique perspective and understanding of cow comfort and the dairy industry both in New York and across the United States. Lindsay joined the Cornell North Country Regional Ag Team as a Regional Dairy Specialist in 2016. Her passions and areas of focus include cow comfort, lameness, cow behavior, barn design, and promoting the dairy industry. She is based out of the Lewis County office, and she can be reached at lc636@cornell.edu or 607-592-0290.
Upcoming Events
FARM Program Continuing Education
April 9, 2020

CANCELLED

FARM Program Continuing Education
April 10, 2020

CANCELLED
FARM Program Continuing Education
April 13, 2020

CANCELLED
Announcements
Welcome Gabby Wormuth, Dairy/Livestock of Jefferson County
Gabby is the new Dairy/Livestock Specialist for CCE of Jefferson County!
Gabrielle Wormuth has joined the Cornell Cooperative Extension of Jefferson County staff and agriculture team as the new Dairy and Livestock educator. "Gabby" will assist dairy and livestock farmers in Jefferson and Lewis Counties with a wide spectrum of production topics including animal welfare, and herd management.

Gabby Wormuth (Domagala) grew up on her family's small dairy farm in Lewis County. She graduated from Cobleskill in 2017, earning her Associates Degree in Agricultural Business and Bachelor's Degree in Animal Science, with a focus in Dairy. After graduation, she helped manage a large dairy operation in central New York and was a calf nutrition consultant for a milk replacer company. She specializes in on-farm troubleshooting with herd management practices, Spanish translations, cattle reproduction, calf & heifer raising and human resource management.

Outside of work, Gabby enjoys making memories with her one year old son, Liam. In addition, she spends her free time milking her cows and growing her herd of show cattle. Gabby looks forward to her younger five siblings showing her cattle at the county fair and farming with family.

How to Manage COVID-19 Risk on Dairy Farms
Straightforward helpful steps to manage risk on dairy farms! We are happy to help talk farms through these steps and develop risk management plans for protecting owners and team members. Reach out to Kelsey O'Shea via email kio3@cornell.edu for more information.
Update - Regional Ag Team Operations during COVID-19
Click here to get the updated information on our operations.