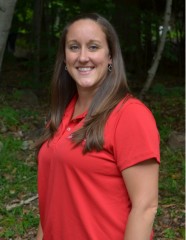 Lindsay Ferlito
Dairy Management
CCE Lewis
7395 East Road
Lowville, NY 13367
cell 607-592-0290
email Lindsay
Lindsay was born and raised in Vancouver, British Columbia, Canada, and received her BS in Animal Biology at the University of British Columbia (UBC). After graduation she worked as an intern at Agriculture and Agri-Food Canada and then as a research assistant at the UBC Dairy Education and Research Centre in Agassiz, BC. Her main roles were to assist with research on dairy cows and calves and help manage visiting students. In 2011, Lindsay completed her MS in Animal Science from the University of British Columbia Animal Welfare Program. Her thesis focused on dairy cattle welfare and feeding behavior. While completing her MSc she continued to gain experience working on-farm as well as conducting her own research. For almost 5 years, she worked for the Novus C.O.W.S.? Program conducting on-farm cow comfort assessments, seminars on cow comfort, and providing producers with herd-specific feedback relative to regional benchmarks. By visiting hundreds of dairies across the country, she gained a unique perspective and understanding of cow comfort and the dairy industry both in New York and across the United States. Lindsay joined the Cornell North Country Regional Ag Team as a Regional Dairy Specialist in 2016. Her passions and areas of focus include cow comfort, lameness, cow behavior, barn design, and promoting the dairy industry. She is based out of the Lewis County office, and she can be reached at lc636@cornell.edu or 607-592-0290.
Upcoming Events
Herbicide Resistant Weed Control in NNY
December 6, 2019
10:45am - 12:15pm
Adams, NY
Herbicide resistant marestail has been found in several fields NNY. This weed has the potential to quickly spread to other fields and will become a much bigger problem to deal with next spring. Resistant marestail will be most difficult to control in soybeans but can also be a problem in corn and winter wheat as well. If you are a soybean grower plan on attending this meeting to learn about effective herbicide resistant weed control strategies and how to deal with resistant marestail on your farm.
1.25 NYS DEC pesticide credits (categories 1A, 10, 21, 23)
1.0 CCA CEU

REDUCED Cow Comfort Workshop - Freestalls and Tie Stalls
December 6 - December 9, 2019
9:30am - 3:00pm
Lowville, NY 13367, NY
December 6th - Scotty's Diner, 1049 US -11, Moira, NY
December 9th - CCE of Jefferson County
Private Pesticide Applicator Certification Training
December 11, 2019
12:30pm - 2:45pm
Lowville, NY
Do you want to buy and apply restricted use pesticides for your own farm?
This is short course will provide an overview of the certified pesticide applicator laws and regulations. It will also cover the key concepts that pesticide applicators need to learn prior to taking the applicator certification exam.