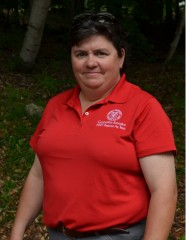 Kitty O'Neil
Team Leader, Field Crops & Soils Specialist
CCE St. Lawrence
2043B ST HWY 68
Canton, NY 13697
phone 315-854-1218
email Kitty
Dr. Kitty O'Neil serves Northern New York agriculture as a Regional Field Crops and Soils Specialist and is Team Leader of the Northern New York Regional Ag Team. Her work focuses on providing field crop producers,consultants, and industry representatives with theknowledge and educational resources necessary to improve crop production and management practices.She helps farmers implement changes to enhance farm prosperity and resilience, while minimizing environmental impacts. Her overall goal is sustainable growth of ag industries in Northern New York.
Kitty is also a member of the Cornell Climate Smart Farming Extension Team because her goals of improving productivity and resilience of North Country farms requires smart crop management and a keen understanding of climate-related risks to crop production and long-term soil health.
Kitty grew up on a successful family dairy farm in Cayuga County, New York and went on to receive a B.S. in Animal Science from Cornell University, her M.S. in Animal Nutrition and Plant Biochemistry from Michigan State University (MSU), and her Ph.D. in Sustainable Plant and Soil Cropping Systems from MSU. Kittyis also a Certified Crop Adviser.
Prior to working with Cooperative Extension, Dr. O'Neil spent several years working at MSU researching potato cropping systems, studying impacts of crop rotations, soil amendments, and cover crops on soil health and biophysics on potato farms.
Upcoming Events
Interseeded Cover Crops in Corn Virtual Field Day
October 28, 2020
Join us for a one hour virtual field day that focuses on interseeded cover crops in corn, herbicide resistant weed management and other weed control updates.
2020-2021 CCE NCRAT Programming Sponsorship Opportunities
November 2, 2020
The CCE North Country Regional Ag team is excited to be hosting a series of online virtual programming options for the 2020-2021 Winter Programming Season (October 2020-March 2021). We're officially inviting you and your company to participate as a season-long sponsor for one fee.
"Feeder Online School/Escuela en Línea para Alimentadores"
November 3, 2020
November 5, 2020
November 10, 2020
November 12, 2020

The Feeder Online School is a 2 part program offered in Spanish and English. The same presentations will be offered in both the English and Spanish sessions. Each day of Feeder Online School will be held from 1:00 pm to 2:30 pm ET. The session in English will take place on November 3rd and 5th, 2020. The session in Spanish will take place on November 10th and 12th, 2020.
La Escuela en Línea para Alimentadores es un programa de 2 partes que se ofrece en español e inglés. Las mismas presentaciones se ofrecerán en las sesiones en inglés y en español. Cada día de Escuela en Línea para Alimentadores se llevará a cabo de 1:00 pm a 2:30 pm ET. La sesión en inglés tendrá lugar los días 3 y 5 de noviembre de 2020. La sesión en español tendrá lugar los días 10 y 12 de noviembre de 2020.
Announcements
Managing Forages through Drought Webinars
Part 1: Managing Pastures in Drought may be viewed here:
https://vod.video.cornell.edu/media/1_19bj2cuc
Part 2: Stored Forages: Winter Feed Supply Beyond the Drought may be viewed here:
https://vod.video.cornell.edu/media/1_ql576klx
The Coronavirus (COVID-19) is spreading rapidly across the world.
Although cities have the most sick people, the disease has reached rural communities of New York as well. Everyone needs to take this very seriously. Agriculture is an essential business, so many of us will continue to go to work. However, we all need to take precautions to stay safe and help prevent further spread of the disease. The key things to do are limit contact with other people and keep everything very clean. We've prepared a new resource to help Spanish- and English-speaking farm employees access credible, multi-lingual information that they can use right away. Here are this links to a printable resource for farms to use:
English COVID 19 Procedures
Spanish COVID 19 Procedures
To see a full list of other relevant resources,
click here
.
How to Manage COVID-19 Risk on Dairy Farms
Straightforward helpful steps to manage risk on dairy farms! We are happy to help talk farms through these steps and develop risk management plans for protecting owners and team members. Reach out to Kelsey O'Shea via email kio3@cornell.edu for more information.
Update - Regional Ag Team Operations during COVID-19
Click here to get the updated information on our operations.