Is Your Farm Prepared For a Crisis? Part 1
Libby Eiholzer, Bilingual Dairy
Northwest New York Dairy, Livestock & Field Crops
March 23, 2016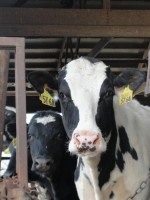 That is the question that was addressed at the American Dairy Association & Dairy Council Inc. Dairy Industry Crisis Drill on December 1-2, 2015 in Albany, NY. Members of the dairy industry from throughout the supply chain were present: producers, cooperatives, processors and retailers, to name a few. The group met to work through a simulated crisis: the release of a video depicting animal abuse on a dairy farm in New York. The scenario isn't actually new: two videos have been released on New York dairy farms. The first was in 2009 by PETA and the second was in 2012 by Mercy for Animals. This type of undercover video has been prevalent across the U.S. since the first was released in 1999 of a Florida dairy farm.

The general consensus was that the question we should be asking ourselves is not if there will be another video released, but rather when another video will be released. While it's not a popular subject in the dairy industry, it's one that must be dealt with. We need to be better prepared the next time around. And in all reality the next video or crisis could focus on a different aspect of agriculture and reach outside of the realm of dairy.

To start with, we need to remember that with social media, the news cycle is now seconds, not hours or days. When a story breaks, it takes no time at all for it to reach across the world. A farm's response to a crisis needs to be quick in order to do as much damage control as possible. The New York Dairy Crisis Team was developed in order to discuss and prepare for possible crises. The Crisis Team includes Tonya Van Slyke of North East Dairy Producers Association, Jessica Ziehm of NY Animal Agricultural Council, Steve Ammerman of NY Farm Bureau, and is headed by Beth Meyer at the ADADC. Beth can be reached at 315-472-9143.

In a series of upcoming articles over the next few months we will discuss this topic in depth. February's article will feature information on how to protect your business from an undercover video, March's article will teach you how to respond to the media in a crisis, and April's article will help you develop an on-farm crisis preparedness plan for your business. In the meantime, start thinking about how you would respond if it was your farm that came under attack.



Upcoming Events
Pasture Walk and Grazing Program
June 14, 2022
12:00pm - 2:00pm

Hidden Hill Ranch 2081 Thayer Hill Rd Boonville, NY


6:30pm - 8:00pm

Zufall Farm 20 Campbell Rd Lisbon, NY
Robotic Milking System Farm Tour
July 11, 2022
Belleville, NY
This program is applicable to any dairy farmers who are interested in learning more about robotic milking systems or who already have robots. Doubledale recently built a new facility with 8 Lely robots, while Gehrkes retrofitted an existing facility to install 1 DeLaval robot. Come tour two unique farms, enjoy lunch, socialize with other farms, and learn from each other.
Dairy Cattle Handling and Safety Program for Farm Workers
July 25, 2022
Champlain , NY
This program is applicable to any current (or prospective) farm workers that currently work with (or aspire to work with) dairy cattle. This on-farm program will focus on cattle behavior, flight zone, good handling practices, risks and hazards when handling cattle, and it will include a hands-on portion.
Announcements
Looking to add land to an existing NYS Certified Agricultural District
Annual Thirty Day Period for Landowners to Request Additions of Viable Agricultural Land to Existing Agricultural Districts
The Jefferson County Board of Legislators has set June 1st through June 30th of each year for the purpose accepting requests to add predominantly viable agricultural land to an existing NYS Certified Agricultural District in the County.
Viable agricultural land: actively farmed as well as land that is highly suitable for agricultural production.

A parcel of land is "predominantly" viable if a minimum of 51% of the parcel is viable agricultural land.

The purpose of NYS Certified Agricultural Districts is to encourage the continued use of farmland for agricultural production. The Agricultural District Program is based on a combination of landowner incentives and protections, all of which are designed to forestall the conversion of farmland to non-agricultural uses.

Landowners who wish to submit a request to add land to an existing NYS Certified Agricultural District may download the form from the Jefferson County Department of Planning web page under NYS Certified Agricultural Districts, or you may call the Jefferson County Department of Planning, (315) 785-3144 and ask for the 2022 Agricultural Annual Inclusion Form.

All requests must be submitted on the form provided by the Planning Department and must be received no later than June 30, 2022.
The Coronavirus (COVID-19) is spreading rapidly across the world.
Although cities have the most sick people, the disease has reached rural communities of New York as well. Everyone needs to take this very seriously. Agriculture is an essential business, so many of us will continue to go to work. However, we all need to take precautions to stay safe and help prevent further spread of the disease. The key things to do are limit contact with other people and keep everything very clean. We've prepared a new resource to help Spanish- and English-speaking farm employees access credible, multi-lingual information that they can use right away. Here are this links to a printable resource for farms to use:
English COVID 19 Procedures
Spanish COVID 19 Procedures
To see a full list of other relevant resources,
click here
.
How to Manage COVID-19 Risk on Dairy Farms
Straightforward helpful steps to manage risk on dairy farms! We are happy to help talk farms through these steps and develop risk management plans for protecting owners and team members. Reach out to Kelsey O'Shea via email kio3@cornell.edu for more information.
Update - Regional Ag Team Operations during COVID-19
Click here to get the updated information on our operations.