2017 Cornell Guide for Integrated Field Crop Management Now Available
Kitty O'Neil, Team Leader, Field Crops & Soils Specialist
North Country Regional Ag Team
December 28, 2016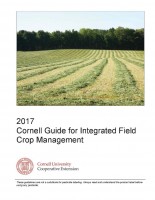 In addition to the annual variety and pesticide updates, highlighted changes in this edition of the Field Crops Guide include:
• Updated malting barley variety descriptions, including field research trial data.
• Updated pesticide use information.
The Cornell Guidelines are available as a print copy, online-only access, or a package that combines print and online access. The print edition of the 2017 Field Crops Guide costs $30 plus shipping. Online-only access is $30. A combination of print and online access costs $42 plus shipping costs for the printed book.
Cornell Guidelines can be obtained through your local Cornell Cooperative Extension office or from the Cornell Store at Cornell University. To order from the Cornell Store, call (844) 688-7620 or order online at
http://store.cornell.edu/c-875-pmep-guidelines.aspx
.
Upcoming Events
Jefferson County Dairy Scene
January 23, 2018
10am - 3pm
Watertown, NY
Keynote Address: Generational and Consumer Product Trends or "Why don't people serve milk with dinner anymore?"
Matt Draper, Executive Director of the Shipley Center for Innovations, Clarkson University.
Lewis County Dairy Day
January 30, 2018
10am - 3pm
Lowville, NY
FSA Borrower Credits Available
Click here to register.
22nd Annual North Country Crop Congress and Agribusiness Tradeshow
February 1, 2018
10-3pm
Lowville, NY
Click here to register.
Announcements
HNY Livestock Processing and Marketing Workshop List
Click here for the list.
Farm Bureau Alert-Extreme Cold
Click here to read.
Pro-Dairy Snow Removal Guidelines
Click here to view .
2017 NYS & VT Corn Silage Trial Data Tables
Preliminary results of the 2017 Corn Silage Variety Trials conducted in New York and Vermont are now available. Twenty-three 80-95-RM hybrids and forty-nine 96-100 RM hybrids were grown at each of 3 trial sites. Two sites were placed in NYS (Central and Northern NY) while one was in Northern VT. A PDF document listing preliminary data tables may be accessed in at this link:
Click here to view data tables.
North Country Regional Ag Team - Cornell Cooperative Extension
Your Trusted Source for Research-Based Knowledge