Grains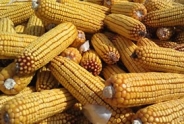 The Field Crops Program provides research-based field crop production recommendations and resources. Assistance is accessible through educational programs, fact sheets, bulletins, articles, websites and individual contacts through on-farm visits to meet the needs of the producers. The field crop program is also very active with on farm agronomic research and demonstration projects. The goal is to improve crop production efficiency through increased yields, improved quality, decreased input costs, protected yields and new technologies.
GRAINS CATEGORIES
Most Recent Grains Content
2018 Feed Dealer Seminars
Tatum Langworthy, Sr. Administrative Assistant
North Country Regional Ag Team
Last Modified: October 17, 2018
When Planting Goes Wrong....
Kelsey O'Shea, Agriculture Business Development
North Country Regional Ag Team
Last Modified: April 2, 2018

Prevented Planting & Replant Provisions in Crop Insurance

2017 NYS & VT Corn Silage Trial Data Tables
Last Modified: November 27, 2017

We received the rest of the data back from Cumberland Valley Analytical Services today and I am attaching a preliminary report containing the data tables and basic information on the trials. We will be working on analyzing the data from predicted milk yields with the Cornell Net Carbohydrate and Protein System (CNCPS) model in the coming weeks and will provide a full report with that information once complete.
Upcoming Events
Academy of Dairy Executives
December 12 - March 28, 2019

Session 1: December 12-13, Crowne Plaza, Lake Placid

Session 2: January 30-31, Best Western, Canton
Session 3: March 27-28, Harbor Hotel, Clayton

North Country Regional Ag Team - Cornell Cooperative Extension
Your Trusted Source for Research-Based Knowledge