Grains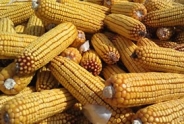 The Field Crops Program provides research-based field crop production recommendations and resources. Assistance is accessible through educational programs, fact sheets, bulletins, articles, websites and individual contacts through on-farm visits to meet the needs of the producers. The field crop program is also very active with on farm agronomic research and demonstration projects. The goal is to improve crop production efficiency through increased yields, improved quality, decreased input costs, protected yields and new technologies.
GRAINS CATEGORIES
Most Recent Grains Content
What are Mycorrhizae and Should They Factor into Your Crop Management Plans?
Kitty O'Neil, Team Leader, Field Crops & Soils Specialist
North Country Regional Ag Team
Last Modified: February 5, 2019
You can Never be too prepared for an Emergency
Lindsay Ferlito, Dairy Management
North Country Regional Ag Team
Last Modified: February 5, 2019
Get to Know Herbicide Sites of Action
Mike Hunter, Field Crops Specialist
North Country Regional Ag Team
Last Modified: December 4, 2018
Upcoming Events
Manure Applicator Training
March 28 - March 29, 2019

March 28th, Living Goods Restaurant, Peru, 9-11am
March 28th, Papa's Dairy, North Bangor, 1-3pm
March 29th, Madrid Community Center, 9-11am

March 29th, Lewis-Jefferson Community Center, 1:30-3:30pm