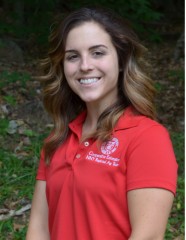 Kelsey O'Shea
Agriculture Business Development
CCE St. Lawerence
2043B State Highway 68
Canton, NY 13697
phone 315-379-9192
email Kelsey
My name is Kelsey O'Shea and I am the new Ag Business Management Specialist for the NNY Regional Ag Team. I originally hail from San Diego, California where I grew up next to the beach, but spent all my time at the horse barn. I spent my youth attending and then working at an old cowboy vocational college in the hills of Temecula that turned into a children's camp in the summer time. Designed like an old western ghost town, I developed my love for livestock and horseback riding through education and experience there. I left California after high school to attend Cornell University with the intent to pursue Veterinary Sciences. After a couple years, my interests changed and I ended up with a BS in Animal Science and a minor in Agribusiness Management. While at Cornell I spent my summers working on a guest ranch near the entrance to Yellowstone National Park in Emigrant, MT. Although I loved living out West, following graduation I took a position with Farm Credit East, ACA working in both lending and financial services in Cortland, NY. During my time at Farm Credit I focused on being well rounded and took on learning both sound lending practices in addition to the ins and outs of farm taxation and record keeping. Through those hands on experiences with clients I came to realize my strength was helping and educating my farmers with the goal of increasing their profitability. After moving to Northern NY with Farm Credit in 2013 I resumed my passion of teaching horseback riding lessons and completed construction of a barn to call my own in 2015 called Clover Luck Ranch. I currently have six horses on the property with a majority of them being used in my lesson program. I also participate in the following community activities: I am on the St Lawrence County Farm Bureau Board as their Young Farmer and Rancher Chair, I am a member of the Pro-Equine Group, and I am involved with the Day At the Farm Event in St Lawrence County. I currently live in the town of Madrid near a large dairy operation and enjoy helping there when I can. In my spare time I really enjoy riding my horses, traveling, and spending time with family. I look forward to working with your farm business in the near future!
Upcoming Events
Online Feeder School Sponsorship
October 15, 2020
There will be two separate virtual sessions: one 2-part session in English, and one 2-part session in Spanish. Each day of Feeder School is a 1.5 hour program held from 1:00 pm to 2:30 pm. The program will be held online only, with a combination of video demonstrations, presentations and discussion. The session in English will take place on November 3rd and 5th, 2020. The session in Spanish will take place on November 10th and 12th, 2020.

Interested sponsors can choose to be recognized during each day of the virtual program. Two Sponsorship levels are available:
Gold = $250 - slide to be played before each day of the program and 20 sec commercial at the start of each day of the program
Silver = $100 - slide to be played before each day of the program
Interseeded Cover Crops in Corn Virtual Field Day
October 28, 2020
Join us for a one hour virtual field day that focuses on interseeded cover crops in corn, herbicide resistant weed management and other weed control updates.
Announcements
Managing Forages through Drought Webinars
Part 1: Managing Pastures in Drought may be viewed here:
https://vod.video.cornell.edu/media/1_19bj2cuc
Part 2: Stored Forages: Winter Feed Supply Beyond the Drought may be viewed here:
https://vod.video.cornell.edu/media/1_ql576klx
The Coronavirus (COVID-19) is spreading rapidly across the world.
Although cities have the most sick people, the disease has reached rural communities of New York as well. Everyone needs to take this very seriously. Agriculture is an essential business, so many of us will continue to go to work. However, we all need to take precautions to stay safe and help prevent further spread of the disease. The key things to do are limit contact with other people and keep everything very clean. We've prepared a new resource to help Spanish- and English-speaking farm employees access credible, multi-lingual information that they can use right away. Here are this links to a printable resource for farms to use:
English COVID 19 Procedures
Spanish COVID 19 Procedures
To see a full list of other relevant resources,
click here
.
How to Manage COVID-19 Risk on Dairy Farms
Straightforward helpful steps to manage risk on dairy farms! We are happy to help talk farms through these steps and develop risk management plans for protecting owners and team members. Reach out to Kelsey O'Shea via email kio3@cornell.edu for more information.
Update - Regional Ag Team Operations during COVID-19
Click here to get the updated information on our operations.