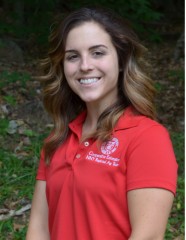 Kelsey O'Shea
Agriculture Business Development
CCE St. Lawerence
2043B State Highway 68
Canton, NY 13697
phone 315-379-9192
email Kelsey
My name is Kelsey O'Shea and I am the new Ag Business Management Specialist for the NNY Regional Ag Team. I originally hail from San Diego, California where I grew up next to the beach, but spent all my time at the horse barn. I spent my youth attending and then working at an old cowboy vocational college in the hills of Temecula that turned into a children's camp in the summer time. Designed like an old western ghost town, I developed my love for livestock and horseback riding through education and experience there. I left California after high school to attend Cornell University with the intent to pursue Veterinary Sciences. After a couple years, my interests changed and I ended up with a BS in Animal Science and a minor in Agribusiness Management. While at Cornell I spent my summers working on a guest ranch near the entrance to Yellowstone National Park in Emigrant, MT. Although I loved living out West, following graduation I took a position with Farm Credit East, ACA working in both lending and financial services in Cortland, NY. During my time at Farm Credit I focused on being well rounded and took on learning both sound lending practices in addition to the ins and outs of farm taxation and record keeping. Through those hands on experiences with clients I came to realize my strength was helping and educating my farmers with the goal of increasing their profitability. After moving to Northern NY with Farm Credit in 2013 I resumed my passion of teaching horseback riding lessons and completed construction of a barn to call my own in 2015 called Clover Luck Ranch. I currently have six horses on the property with a majority of them being used in my lesson program. I also participate in the following community activities: I am on the St Lawrence County Farm Bureau Board as their Young Farmer and Rancher Chair, I am a member of the Pro-Equine Group, and I am involved with the Day At the Farm Event in St Lawrence County. I currently live in the town of Madrid near a large dairy operation and enjoy helping there when I can. In my spare time I really enjoy riding my horses, traveling, and spending time with family. I look forward to working with your farm business in the near future!
Upcoming Events
Herbicide Resistant Weed Control in NNY
December 6, 2019
10:45am - 12:15pm
Adams, NY
Herbicide resistant marestail has been found in several fields NNY. This weed has the potential to quickly spread to other fields and will become a much bigger problem to deal with next spring. Resistant marestail will be most difficult to control in soybeans but can also be a problem in corn and winter wheat as well. If you are a soybean grower plan on attending this meeting to learn about effective herbicide resistant weed control strategies and how to deal with resistant marestail on your farm.
1.25 NYS DEC pesticide credits (categories 1A, 10, 21, 23)
1.0 CCA CEU

REDUCED Cow Comfort Workshop - Freestalls and Tie Stalls
December 6 - December 9, 2019
9:30am - 3:00pm
Lowville, NY 13367, NY
December 6th - Scotty's Diner, 1049 US -11, Moira, NY
December 9th - CCE of Jefferson County
Private Pesticide Applicator Certification Training
December 11, 2019
12:30pm - 2:45pm
Lowville, NY
Do you want to buy and apply restricted use pesticides for your own farm?
This is short course will provide an overview of the certified pesticide applicator laws and regulations. It will also cover the key concepts that pesticide applicators need to learn prior to taking the applicator certification exam.