Soil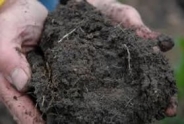 To edti: Admin > Add/Edit Topic > Soil
SOIL CATEGORIES
Most Recent Soil Content
2017 NY Farmer Heavy Rainfall Survey
Kitty O'Neil, Team Leader, Field Crops & Soils Specialist
North Country Regional Ag Team
Last Modified: September 6, 2017
Emergency Forage Options for NNY
Last Modified: July 31, 2016
How will El Nino Impact our Crops in 2016?
Mike Hunter, Field Crops Specialist
North Country Regional Ag Team
Last Modified: March 19, 2016
Upcoming Events
Feeder School - 2 Days of on Farm Training
October 31 - November 7, 2017
10am - 3pm
Canton, NY
Who Should Attend:
• Those who are currently feeding dairy cows and want to learn more about
the how and why of what they're doing.
• Those who are interested in becoming a cow feeder and want to increase
their knowledge of cow feeding.
• Anyone interested in learning more about how to improve the feeding
process on their farm.

North Country Regional Ag Team - Cornell Cooperative Extension
Your Trusted Source for Research-Based Knowledge