Dairy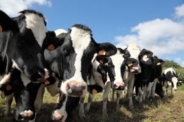 Dairy is the leading agricultural industry in New York State, and the state ranks third in the country for milk production. Milk production continues to grow in the North Country. This 6-county region houses about 120,000 milking cows on dairies of all sizes and different types.
Most Recent Dairy Content
Antimicrobial Resisitance, Treatment Protocols and Prudent antimicrobial usage..
Kim Morrill, Dairy Management
North Country Regional Ag Team
Last Modified: February 5, 2019
The Dairy Industry nees to change to stay relevant to consumers
Kim Morrill, Dairy Management
North Country Regional Ag Team
Last Modified: February 5, 2019
Winter Ventilation
Last Modified: February 5, 2019
Upcoming Events
Manure Applicator Training
March 28 - March 29, 2019

March 28th, Living Goods Restaurant, Peru, 9-11am
March 28th, Papa's Dairy, North Bangor, 1-3pm
March 29th, Madrid Community Center, 9-11am

March 29th, Lewis-Jefferson Community Center, 1:30-3:30pm