Dairy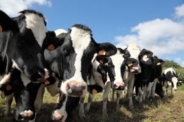 Dairy is the leading agricultural industry in New York State, and the state ranks third in the country for milk production. Milk production continues to grow in the North Country. This 6-county region houses about 120,000 milking cows on dairies of all sizes and different types.
Most Recent Dairy Content
Colostrum and Calf Productivity in our Cow/Calf Operations
Ron Kuck, Livestock Specialist
North Country Regional Ag Team
Last Modified: April 26, 2017
Economic Impact of Stall Stocking Density
Lindsay Ferlito, Dairy Management
North Country Regional Ag Team
Last Modified: April 26, 2017
Emerging Issues
Kim Morrill, Dairy Management
North Country Regional Ag Team
Last Modified: April 26, 2017
Upcoming Events
Open Farm Day
June 10, 2017

Adams Center, NY
Windsong Dairy


School of Logging
July 10 - August 5, 2017

Prepare yourself to work successfully in mechanized timber harvesting operations! Learn
to safely operate common logging equipment and conduct an authentic timber harvesting operation,
tour regional logging operations and sawmills, and interact with professionals from all aspects
of the forest products supply chain.

Announcements
Harvest NY Upcoming Programs/Workshops
Cured Meats Workshop
May 31-June 1, 2017
Cornell University
The course is ideally suited for:
Small-scale Meat Processors
Restaurant Owners
Producers Wanting Detailed Information

To Register Click Here....
Employment Opportunity
Assistant Farm Manager
Come grow with Indian Ladder Farms, a century-old, family-run farm in Capital District Region of New York State. Farm features 60 acres of apples (including 20% new plantings) small fruits, large retail farm market, cider mill and associated on-site farm brewery and cidery. Sales take place primarily on-farm with some direct-store retail. Job includes participation in administration of orchard IPM program, pick your own operation, direct-store sales management and general farm work. Salary and benefits commensurate with skill level and include possible housing option. Detailed job description is available at: www.indianladderfarms.com/employment-opportunities/.
E mail your cover letter and resume to peterteneyck@indianladderfarms.com.
FARM Webinar
Click here to view.
North Country Regional Ag Team - Cornell Cooperative Extension
Your Trusted Source for Research-Based Knowledge