Livestock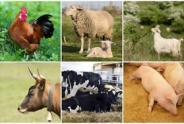 Beef cattle, sheep and goats are well suited to North Country farms and families due to the abundance of grass for hay and pasture, a cool weather growing season and ease of access to quality water. Livestock numbers have increased over 14% in the past 10 years suggesting they are occupying some of those farms that aren't as suitable to the intensive cropping required by modern dairies. Northern New York Livestock producers work together along with Cornell Cooperative Extension to improve their management and market their products locally and statewide.
LIVESTOCK CATEGORIES
Most Recent Livestock Content
Key Points to Remener when Composting Livestock
Lindsay Ferlito, Dairy Management
North Country Regional Ag Team
Last Modified: December 4, 2018
Mortality Disposal Guidance
Lindsay Ferlito, Dairy Management
North Country Regional Ag Team
Last Modified: October 24, 2018
2018 Feed Dealer Seminars
Tatum Langworthy, Sr. Administrative Assistant
North Country Regional Ag Team
Last Modified: October 17, 2018
Upcoming Events
Academy of Dairy Executives
January 30 - January 31, 2019

Session 2: January 30-31, Best Western, Canton
Session 3: March 27-28, Harbor Hotel, Clayton

23rd Annual North Country Crop Congress & Agribusiness Trade Show
January 31, 2019
10-3pm
Watertown, NY
Early Registration til January 27, 2019 only $25.00.

Dairy Day St. Lawrence County
February 13 - February 14, 2019
10-3pm
February 13th - Mo's Place, Malone
February 14th - Best Western, Canton

Announcements
Three Free Digester Workshops offered through CCE St. Lawrence Co.
CCE of St. Lawrence County is offering three FREE workshops showcasing the research results from our feasibility study of anaerobic digester technology on small farms. The research was conducted by our partners at Clarkson University using the anaerobic digester at the Extension Learning Farm, which is fed both manure from a dairy operation and vegetable waste from our commercial kitchen. The digester heats a small green house that starts our seedling plants. We have a small scale vegetable-only digester as well. The research and program targets small dairies under 200 head, livestock producers, horticulture producers and anyone interested in alternative energy.
Program will be held on December 5, January 7, and March 6. A catered meal is provided at each program. Participants within the North Country Region will be given a $25 stipend to help cover travel costs, those from outside the region will be given $50. To receive the stipend, participants will need to complete a pre/post-test survey.
More information and registration information can be found here:
http://stlawrence.cce.cornell.edu/events/2018/12/05/exploring-digester-technology
Need some advice during this farm crisis....
Click the link below to read the Do's and Don'ts March 2018
and Fireside Chat
Click here to read both articles.
North Country Regional Ag Team - Cornell Cooperative Extension
Your Trusted Source for Research-Based Knowledge