Forages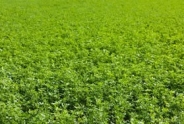 High yields of high-quality forage are vital to the dairy and livestock industries. Feed-costs are often half of a farm's business expenses each year. This page contains resources and information to help farmers better manage silage, hay, and pastures.
Most Recent Forages Content
What are Mycorrhizae and Should They Factor into Your Crop Management Plans?
Kitty O'Neil, Team Leader, Field Crops & Soils Specialist
North Country Regional Ag Team
Last Modified: February 5, 2019
You can Never be too prepared for an Emergency
Lindsay Ferlito, Dairy Management
North Country Regional Ag Team
Last Modified: February 5, 2019
Get to Know Herbicide Sites of Action
Mike Hunter, Field Crops Specialist
North Country Regional Ag Team
Last Modified: December 4, 2018
Upcoming Events
Manure Applicator Training
March 28 - March 29, 2019

March 28th, Living Goods Restaurant, Peru, 9-11am
March 28th, Papa's Dairy, North Bangor, 1-3pm
March 29th, Madrid Community Center, 9-11am

March 29th, Lewis-Jefferson Community Center, 1:30-3:30pm