Forages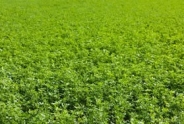 High yields of high-quality forage are vital to the dairy and livestock industries. Feed-costs are often half of a farm's business expenses each year. This page contains resources and information to help farmers better manage silage, hay, and pastures.
Relevant Event
Corn Silage Harvest Strategy: One Chance to Get it Right
September 3, 2019
1-3pm
Lowville, NY
Most Recent Forages Content
Silage Rule Change
Kelsey O'Shea, Agriculture Business Development
North Country Regional Ag Team
Last Modified: July 9, 2019
Apps in Ag
Last Modified: June 24, 2019
Late postemergence herbicide applications in field corn: How tall is too tall?
Mike Hunter, Field Crops Specialist
North Country Regional Ag Team
Last Modified: June 24, 2019
Upcoming Events
Corn Silage Harvest Strategy: One Chance to Get it Right
September 3, 2019
1-3pm
Lowville, NY